Homepage
Main content starts here, tab to start navigating Slide 1 of 19
Slide 2 of 19
Slide 3 of 19
Slide 4 of 19
Slide 5 of 19
Slide 6 of 19
Slide 7 of 19
Slide 8 of 19
Slide 9 of 19
Slide 10 of 19
Slide 11 of 19
Slide 12 of 19
Slide 13 of 19
Slide 14 of 19
Slide 15 of 19
Slide 16 of 19
Slide 17 of 19
Slide 18 of 19
Slide 19 of 19
Share a Latte
Celebrate Valentine's Day and share a latte with the one you love. From February 12th - 14th enjoy two-for-one raspberry cardamom lattes!
Our online store is open
Our online store is packed with merch, gift baskets, limited edition coffee blends, and so much more.
Shop Here
Limited Time Drink Specials
Black Raspberry Cardamom Mocha - dark chocolate sauce, black raspberry syrup, espresso, cardamom, and steamed milk
Chocolate Créme Brûlée Latte - dark chocolate sauce, double shot of espresso, and créme brûlée-infused milk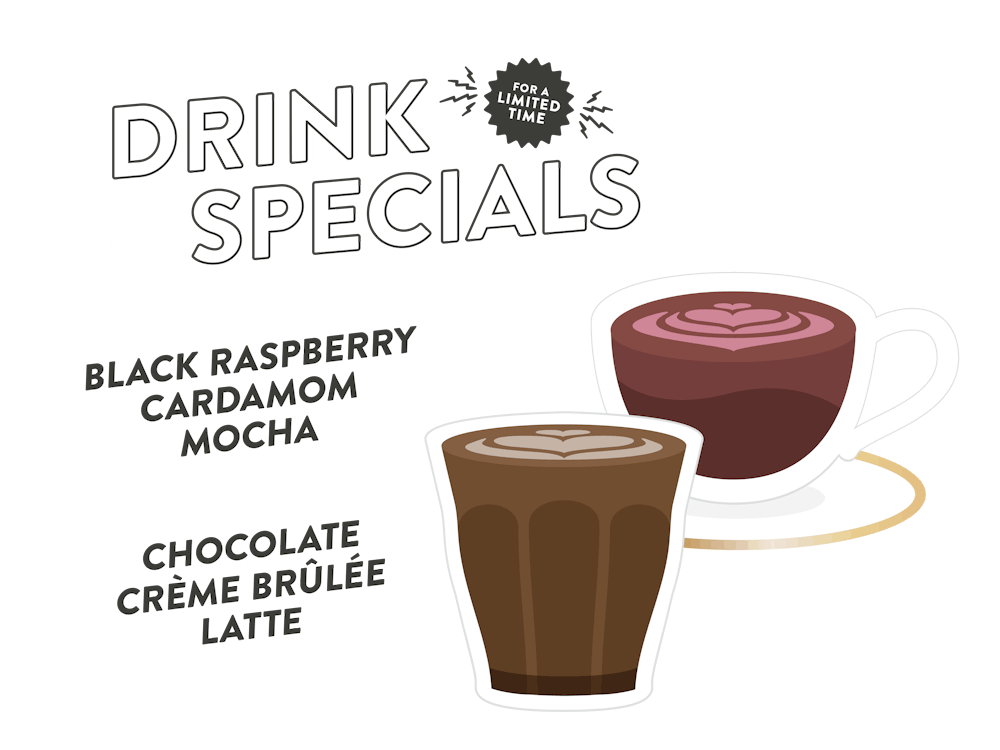 Winter Coffee Blends
Winter blends are back! Stock up on winter coffee and espresso blends, in partnership with our friends at Metric Coffee.
About
G&B is a warm and inviting meeting place where people of all ages and backgrounds can enjoy a good coffee, sandwich (or salad), and dessert and leave with a smile on their face.
About
Visit Us
We serve breakfast, sandwiches, salads, baked goods, and, of course, the best coffee around all day, every day.